Market peaks, holidays, school, oh my! Once you've decided that you want to sell or buy a home, the when can be tricky to tackle. Many factors contribute to optimal timing. Scroll down for the pros and cons of selling or buying in each season.
While each season has its perks and challenges, your personal circumstances will be the most important consideration. Relocation, marriage, divorce, or other life changes may mean that it makes the most sense for you to move now regardless of market factors. If you have kids in school, it may be best to wait until after the school year to make your move.
If your timing is flexible, on the other hand, you'll also want to consider things like the condition of your property—homes that need work or have challenges with location/layout may require a hot market (or serious lack of competing inventory) in order to sell. You'll also want to analyze the micro-market in your neighborhood, including how many other listings are currently for sale. Check out our article on timing the market for some great tips on that.
Seasonal cycles are definitely worth considering. For sellers looking to get the maximum number of eyes on your home, it's important to avoid listing during holiday weeks or inclement weather events like snow. Buyers might find it more difficult to purchase a home at the peak of the market when homes are selling like hotcakes. Below is a chart showing typical market activity based on a five-year average of pending sales.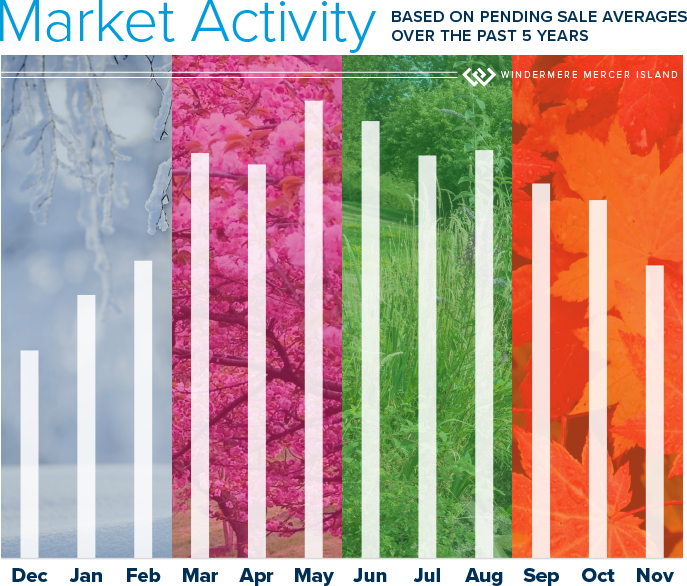 When my clients ask for my advice on when to sell or buy, I typically analyze all of these factors along with seasonal pricing trends. Below are some of the pros and cons I tend to see for buyers and sellers in each season…
---
SELLING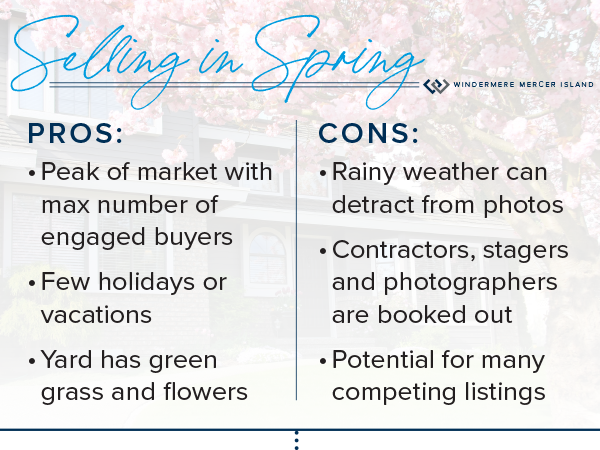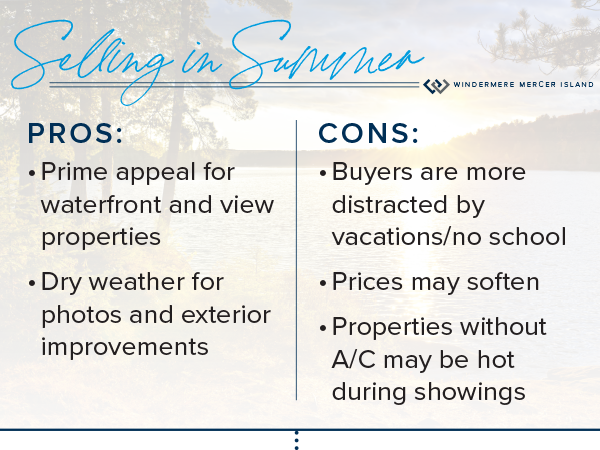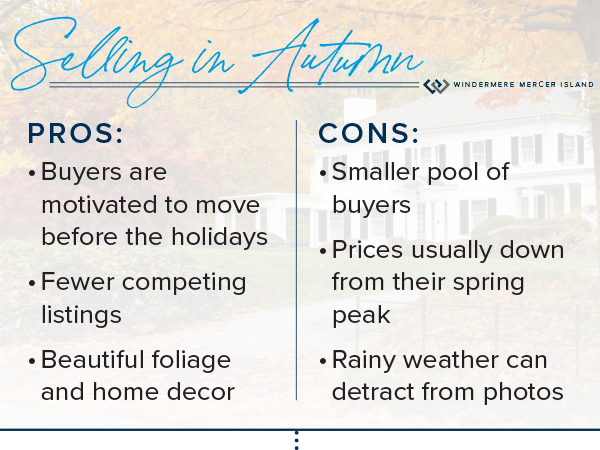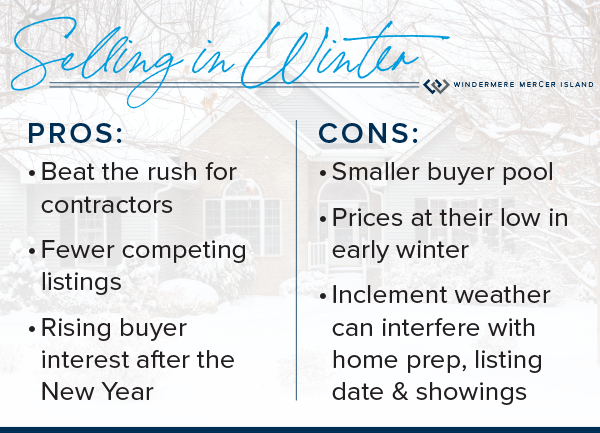 ---
BUYING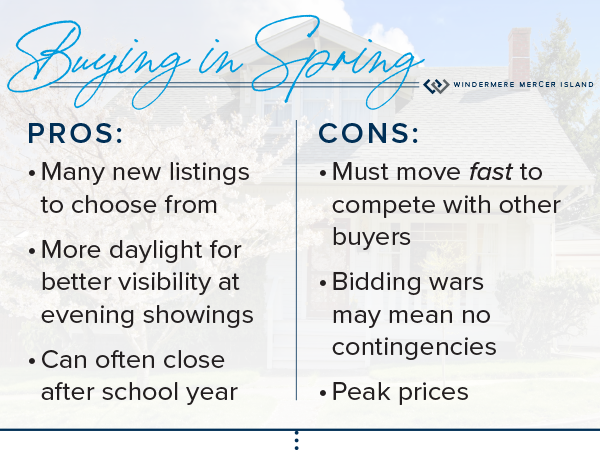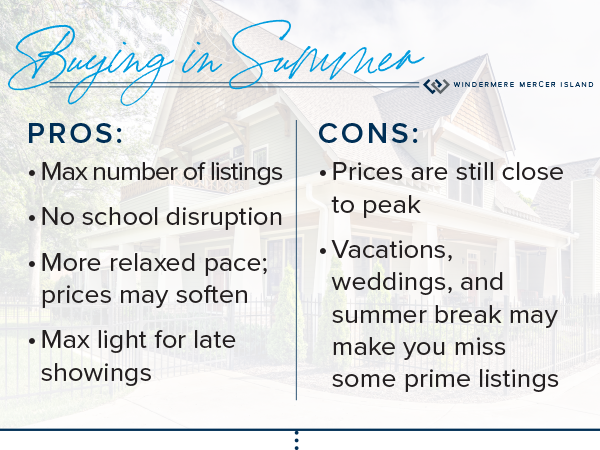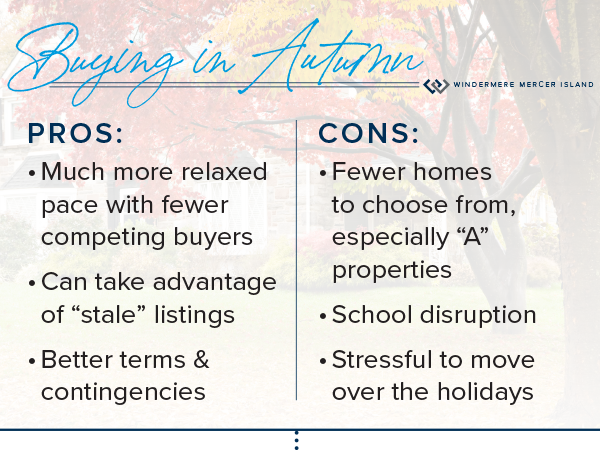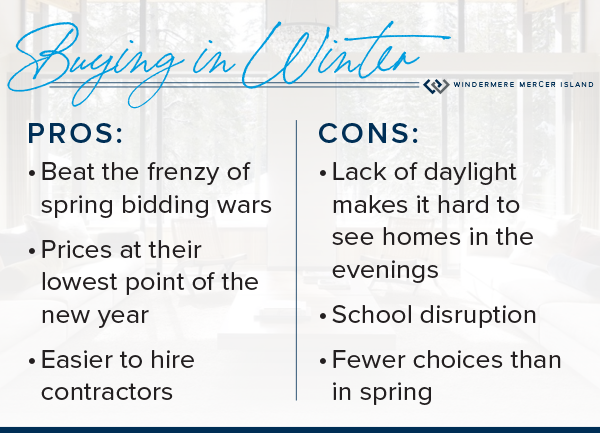 Pssst…I know decisions like this can feel overwhelming. Reach out any time for expert advice. I'm always happy to discuss your options and help you choose the best timing for your unique property, circumstances, and micro-market…

---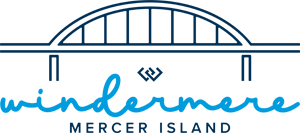 We earn the trust and loyalty of our brokers and clients by doing real estate exceptionally well. The leader in our market, we deliver client-focused service in an authentic, collaborative, and transparent manner and with the unmatched knowledge and expertise that comes from decades of experience.
© Copyright 2023, Windermere Real Estate/Mercer Island.