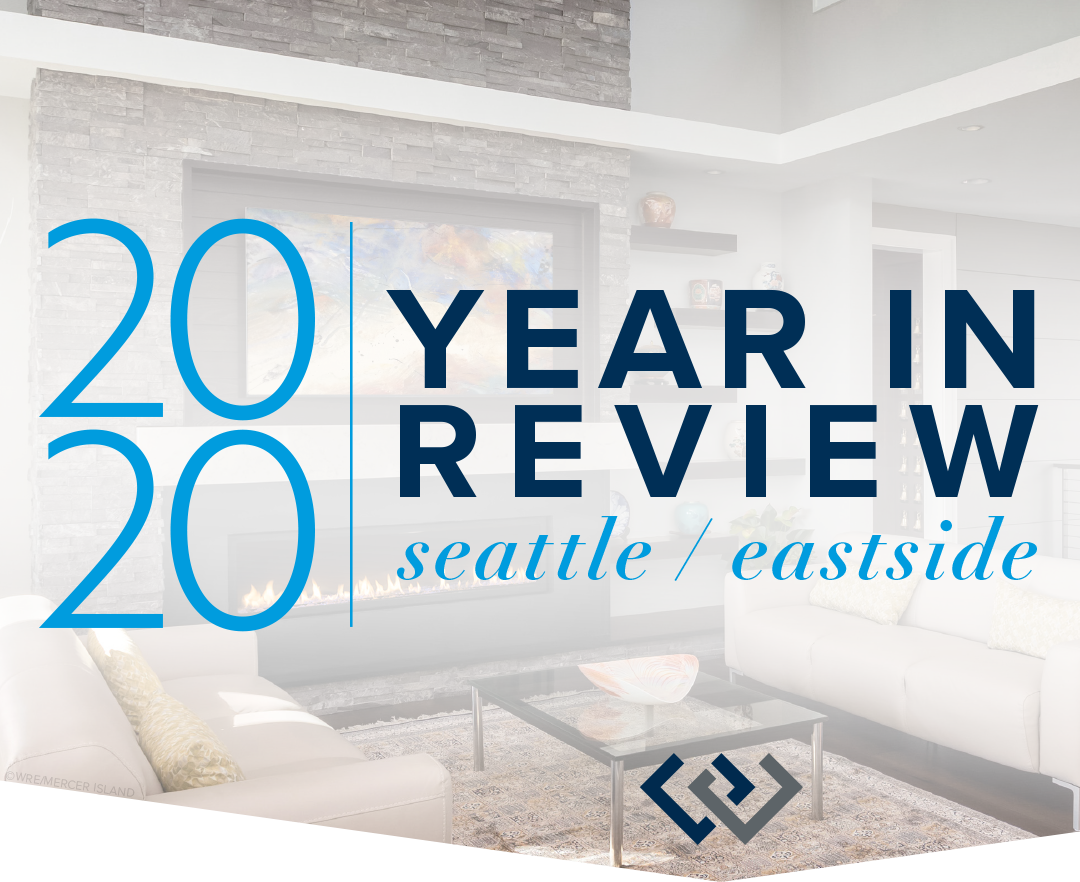 Our local real estate market overcame all odds in the surreal and tumultuous year laid at our doorstep. Despite many economic woes, home sellers were the big winners in 2020 as too few homes for sale could not keep up with increased buyer demand, leading to the most aggressive multiple offer bidding wars we have seen in decades—and likely ever.
Ridiculously low mortgage interest rates—below 3% for much of the year—were the primary factor motivating buyers to purchase as monthly mortgage payments looked increasingly attractive compared to rent. Our new work-from-home environment was also a contributing factor as the desire to improve one's current living situation became paramount to many who were now spending most of their waking hours at home.
The Seattle and Eastside markets operated very independently from each other as prominent tech companies announced significant expansion or relocation in Bellevue, Redmond and Kirkland and Seattle struggled with civil unrest and new employer taxation concerns.
Driven by buyer demand, both regions did see an increase in Median Sale Price with the Eastside up 10% and Seattle up 6% over 2019. With multiple offer bidding wars being the norm rather than the exception, 60% of all Seattle homes and 62% of all Eastside homes sold went under contract in the first 10 days on the market at an average of 104% of their listed price in both Seattle the Eastside.
While consumer confidence continues to be challenged by local and national events—including COVID, unemployment, racial inequality, and our political environment—the desire to secure the best home environment possible, coupled with record low mortgage interest rates, continues to fuel local buyer demand. For many, COVID has changed perceptions of what is important. More buyers are reaching for their dream home or a second home in lieu of travel and other purchases.
Home affordability is quickly becoming one of the most prominent emerging concerns. Most homes are now unaffordable to first-time buyers and moderate wage earners who are finding it increasingly difficult to work in higher cost communities. Expect this issue to be at the center of any housing market discussion in years to come.
Click or scroll down to find your area report:
---
SEATTLE
Seattle's Median Sale Price increased by 6% to $785,000 over $740,000 in 2019. North Seattle (+8%), South Seattle (+7%), and Queen Anne-Magnolia (+7%) outperformed the average while Central Seattle (+2%) and West Seattle (+4%) lagged.
Most notable for the year was a 15% increase in the number of Seattle homes sold in 2020 (9,632) compared to 2019 (8,362). Central Seattle (+25%) and Queen Anne-Magnolia (+21%) had the largest increase in homes sold. Lake Forest Park-Kenmore saw a decrease in the number of sales (-2%).
69% of all Seattle homes, and 16% of those priced above $1 million, sold at or above their listed price. The most competitive Seattle markets were Kenmore-Lake Forest Park and North Seattle, with sales in the first 10 days averaging 105% of their listed price.
The highest Seattle home sale was a 2014-built, 5612 square foot Washington Park waterfront home for just shy of $14.3 million and the lowest was a 1979-built, 162 square foot approved floating home in a leased slip on Lake Union (Ballard-Green Lake) for $134,000.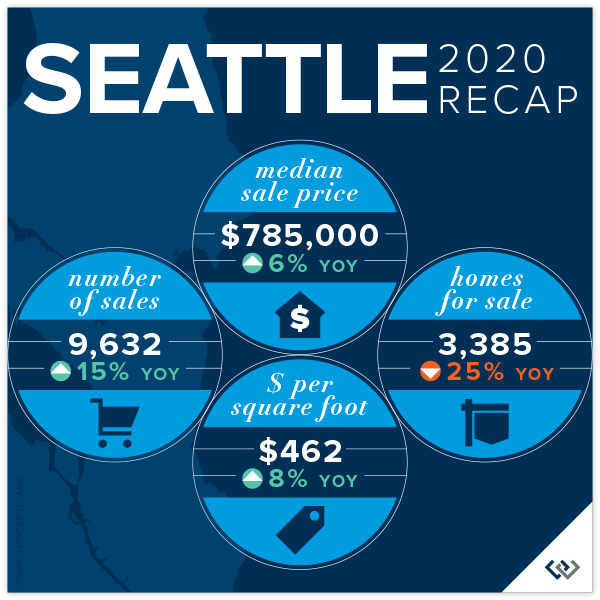 Click here for the full report and neighborhood-by-neighborhood statistics!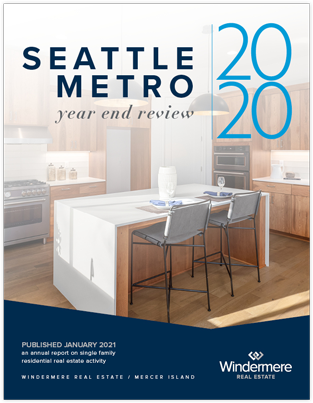 ---
EASTSIDE
The Eastside's Median Sale Price was $1,021,000 in 2020, up 10% over 2019 ($930,000) with the most significant gains in the second half of the year. East Bellevue (+12%) and the Eastside south of I-90 (+11%) outperformed the average while Mercer Island (+3%) and Redmond (+3%) had the smallest year-over-year increases.
69% of all Eastside homes, and 34% of homes priced above one million dollars, sold for at or above their list price. The entire Eastside market remained ultra-competitive throughout the year with East Bellevue sales topping the charts with an average sale price 106% above list price.
The Eastside market saw Months of Inventory (the number of months it would take to sell all homes currently for sale) drop well below 1 month for most of the year and end the year with the coffers nearly empty. Despite the limited supply of homes for sale, the total number of homes sold increased slightly by 5% to 7,641.
The highest sale was a record-setting $60 million, 2012-built Hunts Point estate with 356 feet of waterfront and the lowest sale was a 1924-built Skykomish cabin for $130,000.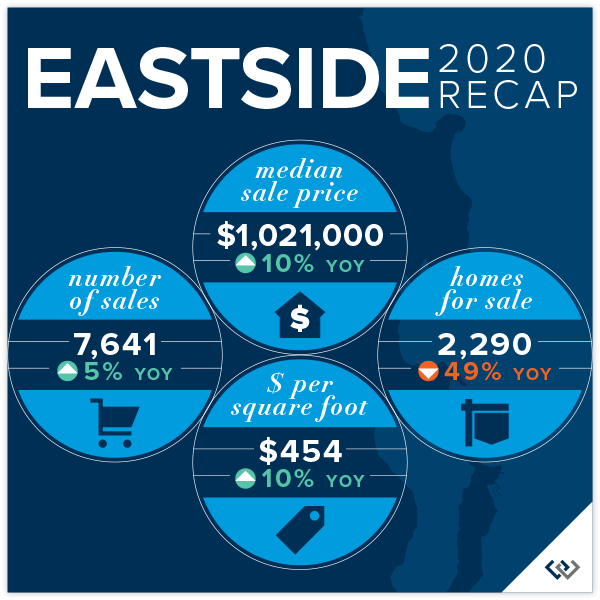 Click here for the full report and neighborhood-by-neighborhood statistics!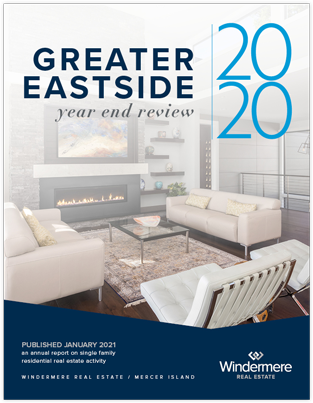 ---
MERCER ISLAND
An astounding 123, of the Island's 332 sales in 2020, were of homes priced above $2 million. There were only 11 sales below $1 million. Mercer Island waterfront listings were virtually all but depleted in the second half of the year as buyers snapped up their dream lifestyle opportunities.
As the year came to an end, there were only 9 homes for sale Island-wide—a new historic low for Mercer Island three times over. This shortage of available homes on the market has led to an extremely competitive market for the most desirable homes, especially those offering one-level living, a main floor owner's suite or prime waterfront.
58% of all homes, and 16% of homes priced above two million dollars, sold at or above their listed price. The highest Mercer Island sale was a $11.2 million, Forest Avenue waterfront home on the Westside with 178 feet of waterfront. The lowest sale was a $815,000 West Mercer rambler sold at land value.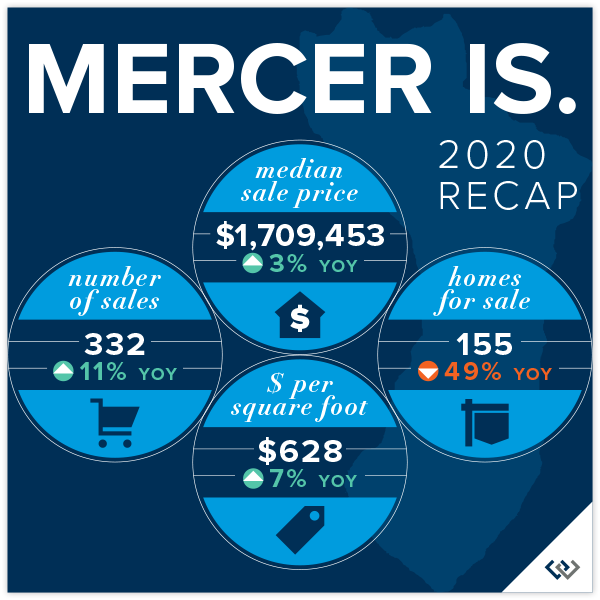 Click here for the full report and neighborhood-by-neighborhood statistics!

---
CONDOS – SEATTLE & EASTSIDE
Housing affordability due to ultra-low interest rates and lifestyle choices sculpted condominium ownership in 2020. Condos offered an attractive and often more affordable option for entry-level buyers who might otherwise rent. Alternatively, many buyers who might previously have chosen a condo living environment found the idea of a single-family home (if they could snag one) more compelling.
The concept that real estate is local applied more to condos this year than ever before. Condo stats in both Seattle and Eastside neighborhoods varied from one to the next so significantly that looking at the overview stats is almost meaningless. As a result, we've delved into the community details as much as possible in our market summary below.
NUMBER FOR SALE – While the number of single-family homes for sale has been on the decline, several condo markets experienced substantial year-over-year increases. The number of units for sale in West Bellevue (+55%), Mercer Island (+55%), Sammamish (+48%), Central Seattle (+45%), Redmond (+41%), West Seattle (+38%), and Downtown Seattle (+32%) were all up markedly over 2019. The third quarter of 2020 was the most active quarter in number of sales for every region except Bellevue and Kirkland—which had the most activity in the fourth quarter.
NUMBER SOLD – Downtown Seattle (+47%) and West Bellevue (+45%) both saw record increases in the number of units sold compared to 2019. While some of rise in sales can be attributed to COVID-motivated movement away from dense housing environments and urban flight, much of it was due to the final completion and closing of new construction units. South Seattle (+29%), Mercer Island (+28%), Ballard-Green Lake (+25%), and Kirkland (+23%) also saw noteworthy increases in their year-over-year numbers.
MEDIAN SALE PRICE – West Bellevue saw a 42% increase in year-over-year Median Sale Price, mostly influenced by the completion of the Bosa 188 project. Kirkland (+17%), Redmond (+16%), Woodinville (+16%) also saw significant Median Sale Price increases in 2020 while Downtown Seattle was the only area to see no increase from 2019.
% OF ASKING PRICE – 57% of Seattle condos and 65% of Eastside condos sold at or above their listed price. 38% of Seattle condos and 55% of Eastside condos sold in the first 10 days on the market for an average of 101% and 102% of their asking price, respectively. Downtown Seattle's lack of appreciation in 2020 made it relatively more affordable and resulted in 61% of all listings selling at or above their list price.
Check out area-by-area details the full condo report.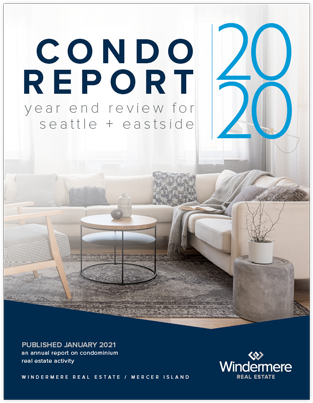 ---
WATERFRONT
Fifteen waterfront sales topped the $10 million benchmark in 2020 as the local waterfront home market came alive amid international trends focusing on home and lifestyle. A shortage of supply in available homes for sale dominated the waterfront scene, which typically has a glut of inventory for sale, resulting in the scooping up of nearly everything on the market by the year's end.
The Eastside had 46 waterfront sales, including a record-setting $60 million 2012-built Hunt's Point estate with 356 feet of coveted waterfront. The Eastside ended the year with just 10 waterfront homes for sale from Kenmore to Kennydale.
Mercer Island had a good year with 31 waterfront sales in 2020 and ended the year with only 2 waterfront homes for sale, both on the east side of the Island. The highest sale was an $11.2 million Forest Avenue abode with 9,790 square feet on 178 feet of west side waterfront.
Lake Sammamish also enjoyed 31 waterfront sales of its own during the year. The highest sale was of an 11,750 square foot 2006-built home on the west side of the lake for $6.4 million. There were just 3 waterfront homes for sale on Lake Sammamish at year end.
We saw much the same story in Seattle with 43 waterfront sales in 2020 and only 8 homes for sale at the end of the year. The highest Seattle sale was a $14.3 million Washington Park home sited on 60 feet of Lake Washington waterfront.
This top-level overview of the entire Seattle-Eastside private waterfront market, including Mercer Island and Lake Sammamish, provides a glance into the trends occurring in our region over time. It is interesting, and insightful, but in no way replaces an in-depth analysis on waterfront value provided by a knowledgeable broker with years of local waterfront experience.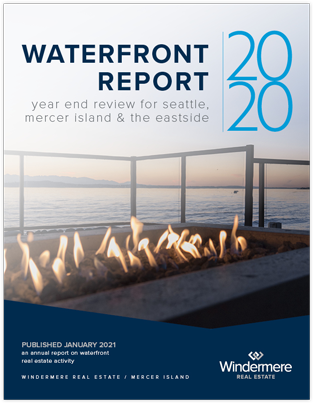 ---

Find a Home | Sell Your Home | Property Research
Neighborhoods | Market Reports | Our Team
We earn the trust and loyalty of our brokers and clients by doing real estate exceptionally well. The leader in our market, we deliver client-focused service in an authentic, collaborative and transparent manner and with the unmatched knowledge and expertise that comes from decades of experience.
2737 77th Ave SE, Mercer Island, WA 98040 | (206) 232-0446 mercerisland@windermere.com
© Copyright 2020, Windermere Real Estate/Mercer Island. Information and statistics derived from Northwest Multiple Listing Service and deemed accurate but not guaranteed.